The Bolayo cultivation pot from WPT Biobased, together with Mulders Sierteelt, has been nominated for the Greenovation Award, with the entry "Physalis Peruviana (Inca Goudbes) in sustainable Bolayo cultivation pot".
The edible Physalis Peruviana (Inca Gouda) is sustainably cultivated by Mulders Sierteelt, both in terms of growing conditions and social conditions. The plant is grown plastic-free with our Bolayo cultivation pot and supplied plastic-free with a Joh label. Enschede Amsterdam.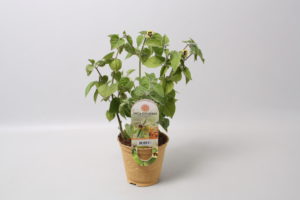 The entire concept consists of 100% natural raw materials and is biodegradable, it reduces the use of plastic and fossil raw materials, prevents plastic litter and reduces the CO2 load. The pot and packaging in combination with the Physalis Peruviana, which offers the consumer the opportunity to grow the healthy Inca Goldberry in their own garden, is a unique concept.
The Greenovation Award was presented by Royal Flora Holland to Van der Vossen during the Trade Fair Aalsmeer 2019, with a plastic-free bulb in a pot. This is a concept in which the bulb in a pot is grown in a plastic pot, but is transferred to a paper pot for delivery to the customer. This concept could be improved with the Bolayo pot. Read about all nominees at:
https://www.tradefairaalsmeer.com/en/greenovation-nominations/